After four long years, it's time for
The Horror Cats
to take a well deserved nap.
With nearly 400 posts (and more than three times that number of screencaps and cat appearances noted), there are simply no more cats in horror movies and television left to celebrate.
Apart from one, that is: Ser Pounce from the excellent "Game of Thrones" TV series. One last feline actor of note, even if he doesn't really do anything. He's a cat, so what do you expect?
We did intentionally omit three movies (which have strikethroughs in the A-Z) due to the subject matter, but other bloggers have mentioned them recently and spared us from the unhappiness. Nobody wants to see cruelty to animals whether it's fake or not, certainly not us.
As this is the final post for a while,
The Horror Cats
wish to take this opportunity to give a long overdue shoutout to the other bloggers who share our obsession.
Linda Kay's
Cinema Cats
–
http://www.cinemacats.com
– has received the baton (not to mention the catnip mouse) and will continue to collect together the notable (and not so notable) feline actors in ALL genres of movies and television. It's a very entertaining and informative site. Check it out!
Anne Billson's
Cats on Film
–
http://www.catsonfilm.net
– hasn't been updated recently, but it's also full of interesting information and high-resolution pictures.
Additionally, there have been quite a few blog posts about cats in horror movies.
Our allies at
The Horror Club
have some "Horror Cats" articles:
10 Horror Cats that need your attention right meow!
10 more Horror Cats that need your attention right meow!
The 10 Horror Cats have returned!
Dr Blood's Video Vault
has several rather amusing Top Ten lists:
The Top Ten Creepiest Catladies
The Top Ten Most Evil Cat Deaths
The Top Ten Most Heroic Cats
The Top Ten Scariest Cats
The Top Ten Sexiest Catgirls
And various other bloggers have continued to add more of the same:
Paws for thought – 20 Horror Cats
Feline Fear! Cats in Horror Films
5 Films With Cat Based Horror Mayhem
Pleasing Siamese Cats in Film TV Books
CATS; often faked-up or badly dubbed in movies
Last, but certainly not least, is our good friend Nicholas Tana, the creator of
Hell's Kitty
–
http://www.horrorcats.com
and
http://hellskitty.com
– a fantastic horror-comedy webseries, comicbook, and upcoming movie featuring a possessed cat and her caregiver's struggle to find a girlfriend.
R.I.P.
Angel
, the star of the
Hell's Kitty
show, who sadly passed away last month.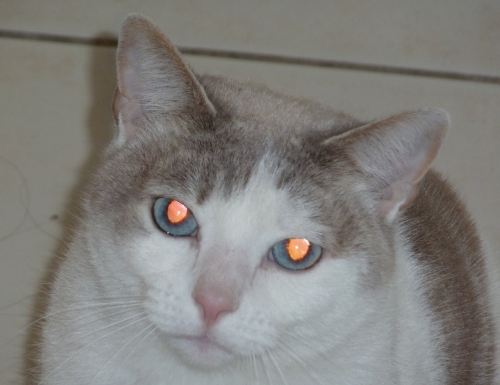 Since everyone already knows that the internet is powered by cats, there have been scores of YouTube videos, forum posts, Facebook groups, and now there's even a documentary dedicated to "Cats in Horror Movies" (as a special feature included in Arrow's Vincent Price blu-ray collection). It's certainly not like there aren't enough cats to go around!!!
It's great that so much interest still remains in this extremely niche subject. What's even better is that there may be a couple of new horror movies featuring cats in significant roles again eventually.
For now, however, we're feeling very tired. We're going to eat a bag of tuna treats, drink some milk, and snuggle down in our baskets.
Meow!